No matter how many times you have tried studying abroad, UKEAS can get you there! Go Far with UKEAS
UKEAS is holding an International Education Fair where you get to meet with over 20 universities from Australia, Canada, Germany and USA! You can ask questions from tuition fees, accommodation, accreditations, work placements and post study work visa option.
What's better? You're meeting with the representatives of these universities directly, so you have first-hand information on all there is to know.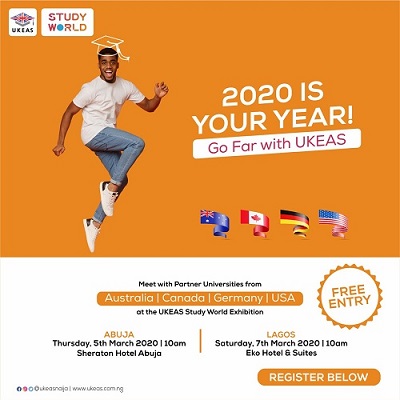 You will also gain:
Free Study and Career Counseling: Our expert counselors who are regularly trained overseas will be on ground to advise you on making complex choices about your course of study and university.
Free Application Process: we are in partnership with universities which enable us to offer free application process and guide you through it.
Free Study Visa Guidance: We take it upon ourselves to lead you through visa application process to maintain our 99.9% visa success rate streak and to ensure you have a stress-free experience.
PTE and GMAT Guidance: Two of our 7 Nigerian offices have well equipped examination centers where you can take proficiency tests.
The event is holding in:

ABUJA
Date: Thursday, 5th March 2020.
Venue: Sheraton Hotel, LadiKwali way, Abuja, Nigeria
Time: 10:00am – 4:00pm

LAGOS
Date: Saturday, 7th March 2020
Venue: EKO Hotel & Suites, Adetokunbo Ademola Street Lagos
Time: 10:00am – 4:00pm
Call: 08166906557 for more information
Don't forget to come along with your academic credentials and friends.

REGISTER FREE NOW!!